BIRTH OF A ROCKER IN AN UNSTABLE SETTING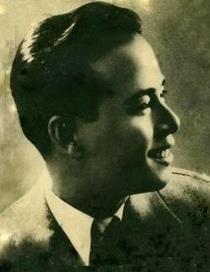 In a photo of her father, he is playing the violin. When Kim Anh was five and barely out of infancy, he passed away, saddling her mother with five mouths to feed. The only girl among her siblings, Kim Anh was used to standing up for herself and competing – sometimes tooth and nail – as much with her brothers as with her surroundings.
Kim Anh was born in Nha Trang (where no one liked, or even understood the appeal of rock & roll) in Vietnam during the tail end of the excruciating Vietnam war. She grew up in the chaotic post-war environment when the country was devoid of resources and had to rebuild itself. In 1979 while China and Cambodia were attempting to invade the country, Kim Anh discovered rock through Suzi Quatro – a bolt of lightning! Kim Anh started dreaming of performing, like her idol, in figure-hugging leather outfits on international stages in Paris, New York and London. In addition to being an all-consuming passion, music was also an outlet for emancipation in a quasi-feudal and male-dominated society at the time.
Running on pure instinct, with a built-in metronome, a powerful right hand scratching the chords (à la Pete Townshend from The Who) and an ear that allowed playing back any tune after only hearing it once, when her older brother started neglecting the guitar that their mother gave to him, Kim Anh took over ownership of it and started teaching herself how to play the guitar at the age of 9. And then, for no reason other than the pleasure of it, she also danced, played the drums and the bass. Every New Year's Day, in the silence of the night, when the rest of her family was asleep, she would stay up all on her own to wait for the TV program that broadcast rock music. Her passion has never deserted her, and like an addiction, she lived and breathed music and dance from dawn to dusk.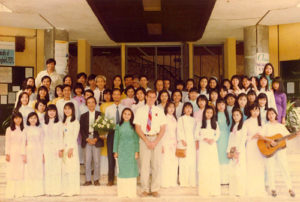 Having obtained a bursary, she went on to attend Hue Pedagogical University. Holding on to an American dream, she graduated with a major in English. But rock and roll possessed Kim Anh, and she seemed like an alien among her professors and peers.
They were all prim and proper in traditional garb, except for Kim Anh,
clutching a guitar and clad in pants. In a society under the thumb of a controlling regime, she already stood out from the crowd…
AN EXPANSION STEEPED IN ROCK TRADITION
Kim Anh then started getting involved with the Saigon Rock Fan Club, an association of young Saigoners who would go on to spearhead the growth of rock. The influences of Chrissie Hynde, Suzi Quatro, Tina Turner, Janis Joplin, Jimi Hendrix, Motorhead and Angus Young loomed large during their sets, and electrified their fans during their concerts.
She struck up friendships with many musicians, who like her, eventually became wildly popular after 2000. After being a part of many mixed bands: Geoffrey; Burned by the Sun; the Good, the Bad and the Ugly; Leroy Jones; etc. Kim Anh founded Passion, an all-female band, with two formations from 1997 to 2005. Accompanying Kim Anh on vocals and the guitar, the first formation consisted of Thao Titanic on drums, Mÿ on the guitar and Nga on the bass, while the second was with Suoyi, a bassist from China, and Thao Titanic still on the drums. Concert goers who have seen Passion live in Saigon still remember their intensity – a group of fired-up Asian girls, led by Kim Anh to a steely tempo with an uncompromising repertoire, 100% unadulterated rock that would resurrect the dead. Their band was noticed, inspiring several articles in the local papers (Saigon Times, Saigon Youth, etc.), and was shown on national television.
In 2001, Kim Anh had a fateful artistic encounter: Rico Brinx (the brother of her ex, Laurent Lindebrings, film director and documentary maker), who was on a trip to Vietnam to record the maestro of Vietnamese zither, Nguyen Vinh Bao. A musician, composer and producer, Rico became friends with Kim Anh.
During this period, Kim Anh played at several key events at notable venues in Ho Chi Minh and elsewhere in Vietnam: American Day, Australian Day, Canadian Day, New Zealand Wine and Food Festival; Vasco, Underground, Acoustic, Factory, Yoko, Pacharan, Apocalypse, Le Sud Gaudir, Zanzi, Sheridans, White Horse, Alibi, Buffalo, Sai Gon Bar in Nhatrang City, Vietnam: Sailing Club, Guava Bar, Pattrict Wine Bar, the list goes on.
With such a wide collection of tracks offered today depending on the theme of the concert and with a broader network of musicians, she participates in various bands either as a guitarist, singer, bassist or composer.
Often accompanied by her unwavering bassist Christophe Blin, and more recently by the young and talented guitarist Marceau Portron, and Charles Huss, former drummer who just joined the club, Kim Anh continues on her adventure, with the very same energy and dyamism for which the greatest names in rock and roll are known.
Her plans to release a CD feed on all these hues and her musical and personal experiences.
When you see her in concert, you would know how the spectators felt watching the Beatles at Kaiser Keller in Hamburg before they became famous – the making of a legend that money can't buy.
The adventure can now continue with you…